I Finally Put Them On Display
I Finally Put Them On Display
For those of you who have graced my humble abode, I may have pulled out a stack of envelopes maked with Costco logos. In all likelihood I would have proceeded to pull out large (11"x14", 12"x18", 12"x30") prints of some of my favorite, and possibly panoramic, photographs. For the past two years, the prints have dwelled within these envelopes; which should be vigourously commended for their duties as anti-dust agents.
What I am trying to say is that I finally got around to displaying my favorite pictures on the wall!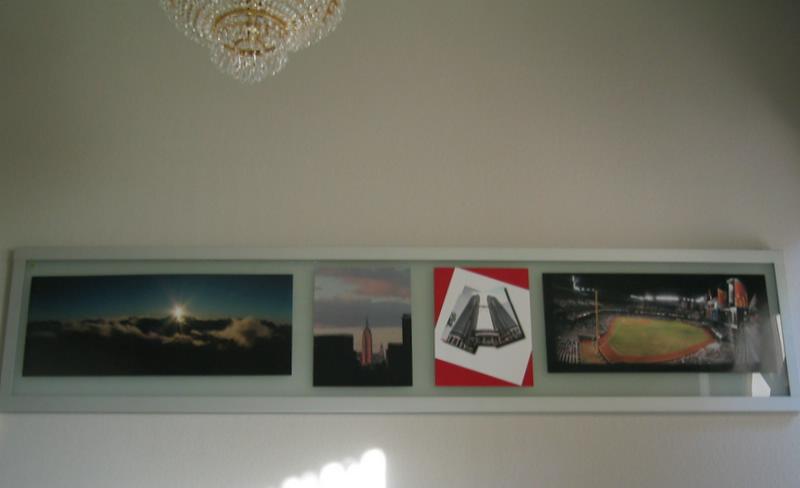 For a couple years I had the idea of building a giant frame and affixing the pictures to it. Then I noticed a product at Ikea! What would have been an a wardrobe door (PAX DRAMMEN) I rotated 90° and created a very large, and might I say stylish, picture frame :-)
For those of you interested in the details: On the back of the door, there are four places to attach hinges. Around each place there are two holes for screws. So in two of these places (the ones at each corner), I screwed in a pair of screws (1/4"-20x1/2" round slotted head) and strung hanging wire between each pair of screws. Then I placed regular old hanging hooks (rated at 50 lbs) on the wall and hung it up! You may find yourself saying, "So simple! I could have thought of that myself!." I applaud you.
I plan to switch the pictures out every month to keep things nice and fresh. In any case, since so many people take many beautiful pictures, I say everybody should make one of these showcases!
Pictured below are two of the doors I use as a picture frame
---