Digital+Photography
This page serves as a diving board into bits of photography that I find interesting.
Topics
---
Sony A37 - After much, much debate between a mirror-less and mirrored camera, I settled on the A37. With this guy, I get to keep the in-body stabilization and use all my lenses/flashes without an adapter. It's a slightly smaller package than the A100 and a huge upgrade in image quality. Plus, it has everything I need to move deeper in the world of video!
Sony A100 - It's a DSLR that normally finishes last in performance test but has one killer feature:
the shake-o-meter. Inside the viewfinder, you'll see bars, much like the signal strength on your cell phone. The bars measure the amount your shaking the camera, so as the bars go down, the steadier the camera and the sharper the shot. This type of real-time feedback is invaluable to me.
Lenses:

Sony DT 16-50mm F2.8 SSM

This is my go-to lens. It's a bit heavy but it's worth it because it's quiet and has a great range.

Minolta 70-210 F/4.0 (Beer can)

Surprisingly handy and cheap!

Minolta 500mm F/8.0 Reflex (AF, Stablized, and only 200mm long!)

Newest lens, excited to take it somewhere!

Minolta 28mm F/2.8

Previous to the 16-50, this was my favorite.

Minolta 50mm F/1.7

Previous to the 28mm this was favorite. For years I had no idea that my copy's aperture blades were stuck. I picked up a second copy and was amazed.

Kit lenses: Sony DT 18-70mm F/3.5-5.6 and Sony DT 18-55mm F/3.5-5.6

Flash: Minolta 3600HS(D), HVL-F20AM
Accessories: Cable Relase, Polarizer, ND Filter, Grad Filters, Tripod, Glide Cam
Canon SD1000, Canon S90
Sony DSC-TX5
Minolta StSi - Film 35mm
Minolta SR-T 201 - 28mm/f2.8 and 50mm/f1.7
Nishika N8000
Other cameras I've owned: Toshiba PDR-2, Fuji FinePix 1400, Canon S230, Sony DSC-F717, Canon SD600, and Canon SD 870 IS
My super-short answer: Canon ELPH 340 HS, Sony RX100, Sony a5000, or a Nikon DLSR, as of March 2014
Short answer recommendations - Dave's Picks at Imaging Resource
Basic advice - DP Review
Expert advice - Imaging Resource
Read the manual and know thine camera!
Learn to use: flash, focus-modes, white-balance, and metering.
Use of continuous mode to make videos with low frame rate
Sample:

Animoto does an amazing job of making fun 'video slideshows'. Here are my Animoto Tips
Description of Qtpfsgui algorithms and parameters
More involved HDR tutorial
CHDK script I use on my Canon SD870IS to make it auto-bracket.
So far, I've found even using a tripod does not guarantee you clean alignment if you touch the camera to adjust exposure levels. Thus, auto-bracketing is pretty mandatory. Even when using a tripod or sitting the camera down, I've noticed I need to adjust the alignment by a pixel or two.
I've also noticed using only 3 pictures is best for an HDR.
I seem to happy with the default settings on the 'fattal' tone-mapping algorithm available in Qtpfsgui, except that I increase noise reduction to .150
The A37 has an in-body "HDR Painting" setting. On the "high" setting, it seems to make the kind of crazy HDR's I like!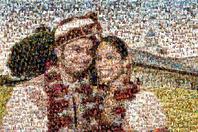 Free Software and tutorial: andreaplanet.com
My Tips

Here are some notes on my first mosaic.
Another one, only 6 six years later!
Key point: Make sure your overall picture has large recognizable, cartoon-ish patterns. Try to have varied colors with high contrast borders. If you like a really complicated picture, then try photoshopping the borders and regions until it's more cartoony, I promise the mosaic will look much better if you do.
Convert the overall picture to grayscale when all else fails.
The rest should just be up to the parameter forumlas I've noted below.
When making mosaics with faces, the results can look odd or even disturbing. Try adjusting the target image rather than removing offending tiles. Most likely you will need to move the eyes or nose in relation to tile boundaries. The other option is to make the area of the faces semi-transparent. Keep the real face behind the mosaic. This allows gives more detail to the face and eliminates creepy-ness.

Parameters

There are 5 main parameters, these are ones that I use:
Formula:

Width = Max(W,H)*DPI, where DPI >= 300
Num Tiles = W*H,
<= 30% change
Use judgement for Num tiles apart.
Standard Algorithm (flipping introduces doubles)

For a 30"x 20" mosaic:
12000px wide - 900 tiles - 15 tiles apart - 30% change - Standard algorithm
For a 36"x 24" mosaic:
15000px wide - 1250 tiles - 17 tiles apart - 30% change - Standard algorithm
Costco's awesome pricing scheme. Photos 20"x30" or smaller in 1 hour!

13 cents for a 4" x 6"
39 cents for a 5" x 7" or a 6" x 9"
149 cents for a 8" x 10"
299 cents for a 11" x 14"
299 cents for a 12" x 18"
599 cents for a 16" x 20"
899 cents for a 20" x 30"

Posters

ASU - $3.00/sqft - 2-3 day turnaround.
Alphagraphics - ~ $10/sqft
24" x 36" - ~ $15 - ask the internet
You'll need a tripod and a cable/remote release.
You can try 30-60min exposures, but you'll probably have more success using a series of 30second exposures that you can combine using this app.
Try making sure you have some kind of subject in the foreground. Try 'painting' the subject with a flash light.
Canon vs. Nikon vs. Sony - Link
If you buy Canon:

lots of second-hand lenses available
prices are good
many "new" lenses are old designs with so-so performance
telephotos are great and focus very quickly (this is their primary market)
wideangle lenses are embarrassingly bad
user interface sucks, but you can get used to it
many manual lenses can be adapted to it due to the short registration distance
the wireless flash system is a bit sad and requires an expensive addon to the camera or that you waste a top-of-the-line flash on the body as controller

If you buy Nikon:

decent second-hand selection of lenses
some great older lenses are sort-of compatible (depends on body: some won't AF, some won't meter)
prices of new lenses are high
wideangle lenses are great... if you have the cash
telephotos are OK but the 70-200/2.8 VR is an embarrassment
not compatible with older non-Nikon manual lenses due to long registration distance
the wireless flash system ("CLS") is the best available now

If you buy Sony:

stabilisation in the body
pro-level glass prices are on a par with Nikon, higher than Canon
lenses are mostly new designs, optically as good as or better than Nikon/Canon equivalents
second hand lenses are not as common and cost more
Minolta back-catalogue has good lenses but poor availability / high prices
not a lot of mid-range lenses available (no f/2 prime series or f/4 zoom series available new)
super-telephotos are OK but terribly overpriced
flash mount is physically different[3]
the wireless flash system is nearly as good as Nikon's but lacks some of its features like remote-manual and grouping
you get the dyxum forum, which is awesome
the high ISO performance isn't as bad as people make out on forums
---