Photos On Wood
After seeing this tutorial, I was inspired try it myself. It has led to a couple of pieces and a lot of notes. It was a lot of work, but they turned out great and I learned a lot.
Also, you can get this done professionally at places like WoodSnap, but they don't do the nice shiny finish. If I had gone down this route, I would still follow the same steps for choosing and preparing the photo.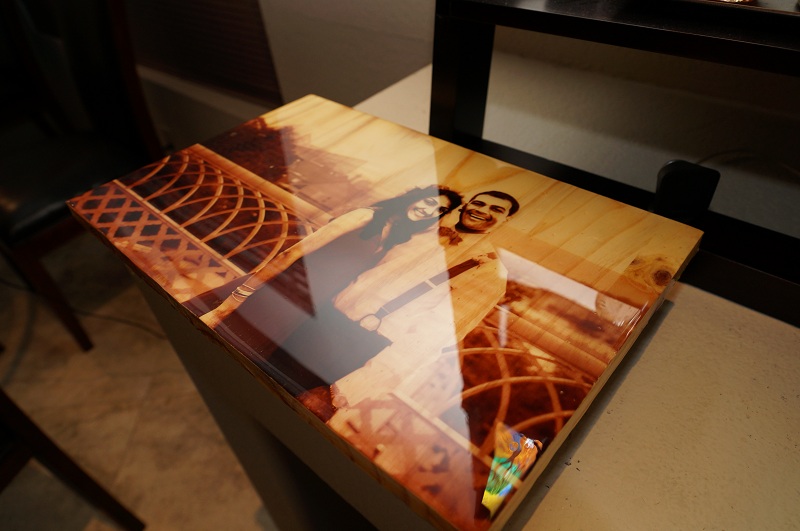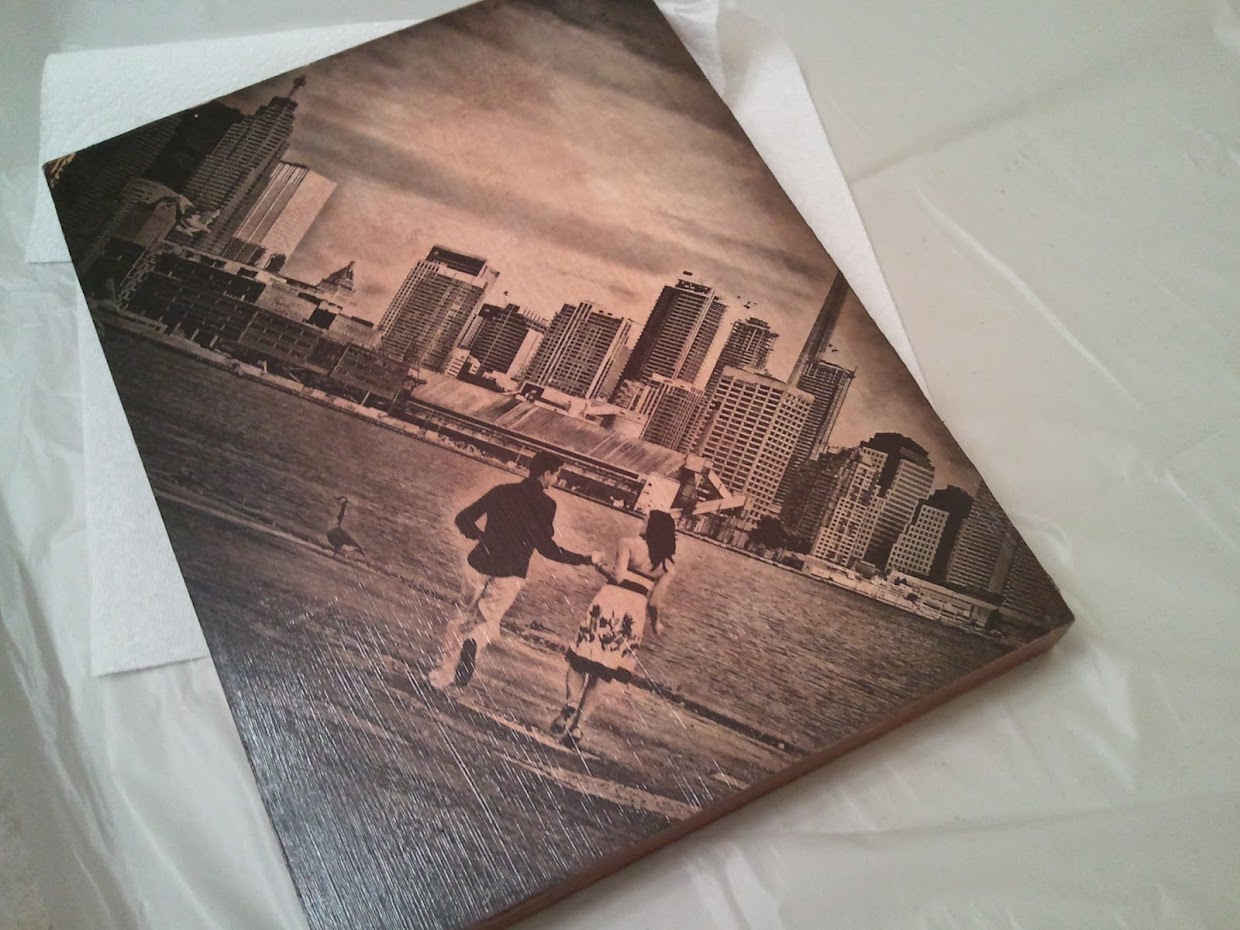 Choosing a photo

Make sure that at least 40% of the photo is white/transparent or a very light color. This allows the wood to show through the photo. If the photo is totally colored, you won't be able to tell it was printed on wood.

Preparing the Photo

If you're using a black and white photo, colorize the photo to match the shade of wood
High contrast skin/face is important, it should be almost cartoon-like. The rest of the scenery can be normal.

Printing

Print on a color laser printer (inkjet will not work).
20-lb paper is fine.
32-lb paper is better. The heavier paper means the laser printer will produce a better image (less grainy). Downside is that the heavier paper takes more time to rub off.

Preparing the wood

Make the wood slightly smaller than the photo, edge-to-edge looks great
Oil is a great way to bring out he grain of the wood, apply it before the Gel medium.
The measurements listed on a piece of wood bought from Home Depot aren't necessarily the real dimemsions!
Avoid knots when choosing the piece of wood. Dents and scratches aren't ideal, but seemingly don't matter.

Applying Gel Medium:

Too much is better than too little.
Too little causes parts of the photo to come of when rubbing away the picture
Too much and the paper will get moist and ripple. I think you can flatten these out, but I haven't tried.
Bubbles are the worst. Bubbles are hard to distinguish from ripples that are filled with excess gel medium.

Rubbing off the paper

This till take at least two passes. As the water dries, unremoved fibers will become visible.
I've always tried to use a minimal amount of water. I suspect water causes the gel medium to bubble.
Angle wood almost parallel to light source to the surface to detect remaining fibers of paper

Applying Sealer

Modge Podge is a quick and easy

You can use a wood __ to color the photo right before applying the Modge Podge.

Epoxy Resin is tricky but looks great

Prepare your work area really well

Create your dust-free environment ahead of time.
Tape the underside of the wood with painter's tape so that the beads of epoxy that form can be removed easily

Red cups, plastic forks (spreader) and knives (stirer) work well. The sides will have to be done using a paint brush that you no longer want.
Get a long lighter to remove bubbles.

Epoxy resin does not seem to be flammable

Leveling before pouring the resin is important
Elevate the wood intelligently. Run-off can bond the wood to anything.
---